After the traffic and associated smog in Hanoi and 20 hours spent in a rocky train, I have to say that we were a bit relieved when we arrived in Saigon. The city itself is surprisingly modern with Luis Vuitton and Hermes shops lining the streets. You felt in certain parts of the city as if you were in Paris!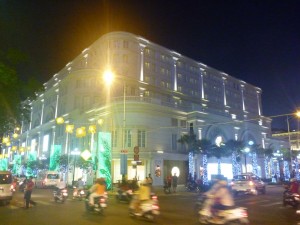 Generally speaking we enjoyed our time in Saigon, though two of our days were spent venturing outside of the city to nearby sights. These trips were arranged through tour operators in the city, which seems to be standard practice. The first trip to the Mekong Delta was nice and relaxing, though we hadn't considered that this was just another day spent on a boat and wasn't really necessary after two days spent on the slow-boat to Laos.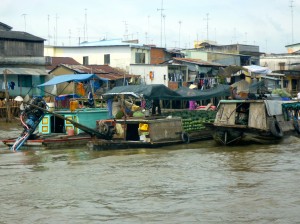 The second trip was to the Cuchi Tunnels, an underground network of tunnels that the Viet Cong used as a hiding spot during the Vietnam War. It was interesting to see the tunnels and hear about the experiences of people who used them. At the same time we were stuck in a group with 80 other people, which made it rather difficult to see or appreciate much. On top of that, I was personally a bit surprised by the amount of propaganda about the "War of American Aggression."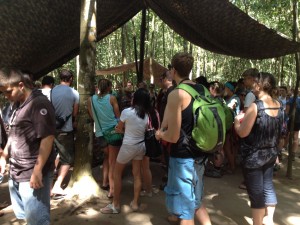 I also found it interesting that on these excursions, the opportunity to purchase something seemed to arise every 20 minutes or so. When the buses stopped for a comfort break, it was conveniently at a centre where physically disabled people were making handicrafts for sale. (Side note: I am always keen to support programmes that give opportunities to vulnerable groups, but I was sceptical about the lack of information provided about this one.) Every place we visited had someone making and selling something: coconut and banana candies, liquor, honey, rice cakes and so on. Funny enough, these craftspeople stopped working as soon as the tourist group left (which we figured out when Fox had to go back to use the toilet.) At the Cuchi Tunnels they were even offering the opportunity for people to shoot an AK-47 at $2 USD a bullet, which is outrageously expensive when you consider the relative price of goods and services available in Vietnam.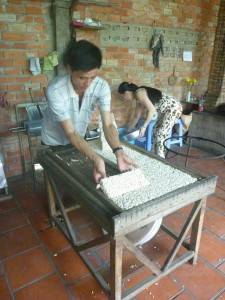 Though we found the city of Saigon to be very beautiful, and much more low-key than Hanoi. This is also where we rang in the new year, celebrating the countdown in the city centre along with fireworks and musical performances.