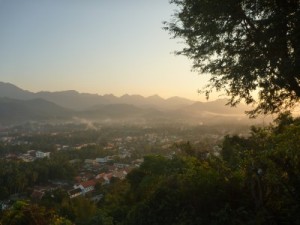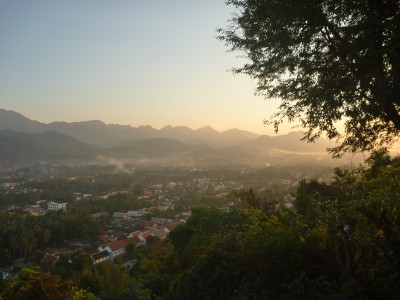 Luang Prabang blows one away. Especially after the two day boat ride from the Thai border that somehow ends up on every backpackers itinerary because the actual road is basically shit and the Mekong river is really nice, so to say.  Luang Prabang just comes of as a different world. You see the French style of architecture – wide street and right angles – combined with the South East Asian influences – palms/temples/monks – and you immediately relax. Just having an excellent Lao coffee in a colonial style coffee shop was worth the trip.
On top of that the trekking and exploration around it is amazing, way more intimate than Chang Mai and the countryside way less spoiled. Case in point is the Hmong village we visited on a Kayak tour down-river sometime before mid-day. There was nobody in town except an old monk and a grandma doing laundry. Everybody else was on the fields working, which is normal for that time of the day. Everybody being on a tour to a "native village" in some parts of Thailand will know the difference – nobody selling stuff or sitting around in traditional cloth or working on "crafts", stopping as soon as the tourists are gone. Let's hope it stays that way.
Thanks to its World Heritage Status, Luang Prabang survived the onslaught of tourist and/or business development in South East Asia quite well. New shiny buildings are not allowed, it is even forbidden to drive a big bus or a jeep with kayaks through town. If you climb the Phou Si hill in the center of the city and look all around you, the view of palm trees dotted occasionally with golden temples and old houses is quite memorizing. Mostly because of the contrast with the rest of the larger cities in South East Asia which all have changed dramatically in the last 40 years. It feels you are discovering a new place like the travelers in the 70s, just before the first Lonely Planet came out in 1975, even if that is not really the case, seeing all the tour operators dotting the streets. It's still nice to imagine it.