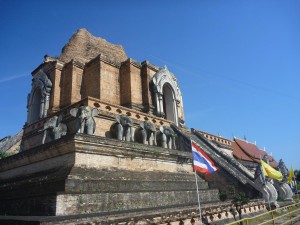 Yesterday, Fox and I said goodbye to our families and struck out onto our own for four weeks of backpacking. Our return flight had brought us to Bangkok. We had realised during out stay in Koh Samui that all overnight train tickets from Bangkok to the northerly town of Chiang Mai were sold out. Reluctantly, we purchased flights on the budget airline carrier AirAsia.
Fox and I were surprised when we arrived in Chiang Mai, as the entire town seems to be heavily geared towards tours and packages. Starting from our first taxi ride to the hostel, we were shown brochures touting elephant treks, cooking classes and village tours. Chaing Mai is the starting point for tours of hill tribe villages, where pockets of people are living with very traditional lifestyles. This includes the Karen people and their infamous elongated necks, the Hmong and the Akha among others. Many of these tours seem to consist of an afternoon of passing through the villages and snapping pictures. You can also bathe with elephants, ride a zipline or a segway through the jungle, or climb to the treetops and hang out with Gibbons.
Most of these experiences have either not struck our fancy or met our budget. We've decided that today we will explore the town including it's famed night market, and tomorrow we will catch the three-day slow boat to Laos.