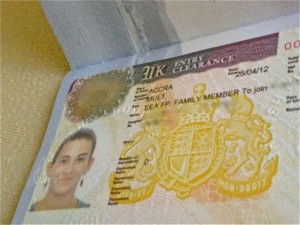 I am pleased to say that I finally have my visa to go and live in the UK! The process of getting that visa, however, was enough to drive a girl insane…
The Application: First, there is an online application asking everything from "what is your net worth?" to "are you a terrorist?" In addition to this application, Fox and I were required to provide stacks of documentation proving our relationship. We prepared a giant booklet with signed letters from our parents, copies of bank statements and letters from our landlord just to name a few.
Submission Process: The application was completed online. Additionally, I was required to visit the office to submit my supporting documents, fees and fingerprints.
The Fee: After my online application was submitted, we were told we had to pay a fee of $1,500 USD! The fee was to be paid in person at the visa office, and was only accepted in Ghanaian currency. We had to scramble to figure out how to get that many Cedes ready, and ended up resorting to a costly wire transfer. In the end it turns out we didn't have to pay a fee, but more on that later.
If the process itself wasn't enough, Fox and I encountered problems almost every step of the way…
Problem #1: We filled out the wrong form
I came to my visa appointment, all documentation in hand and ready to go. When it was my turn to submit my documents, the woman asked me if I wanted to submit an application for a settlement visa, or an EEA family permit. I had filled out the settlement visa application, since it seemed to be the only option on the website. It turns out that I needed to select "other" and fill out a form for an EEA family permit. Upon questioning her further, I found out that the settlement visa application came with a fee of $1,500 USD while the EEA family permit was free! Why a British man has to pay $1,500 to get his family member into the UK but a German living in England can bring his family members in for free, I still don't understand. Nonetheless, I decided to fill out the new form and avoid the $1,500 fee.
Problem #2: We needed a certified copy of Fox's passport
Fox was with me in Accra at this time. Now that we were submitting the EEA family permit application, we were told that we needed a certified copy of his passport. Where does a German guy receive a certified copy of his passport, you ask? At the passport office in Germany, of course! We decided that a copy from the German embassy in Accra would have to suffice. As I was filling out my new online form, Fox grabbed a taxi and hurried to the embassy on the other side of town.
Problem #3: I needed to get a refund for my non-refundable fee
The UK visa office has an agreement with a local bank where visa applicants can pay their fees at this bank ahead of time. I took advantage of this so when I arrived the day of, I had a slip of paper in my hand saying I had already paid my non-refundable fee. This is where the manager at the visa application center really helped me out. A phone call and a signature later, I had my refund approved. I simply had to return to the bank where the fee was paid. Big sigh of relief!
Problem #4: I needed a tuberculosis test
This problem arose a few days later, when Fox and I had already left Accra. Apparently since I have been living in Ghana for more than six months, I needed to get a tuberculosis test from an approved health center in Accra. This requirement wasn't on the internet checklist, since I'm not sure how many Americans are applying from Ghana to go and live in the UK. I was to return to Accra, pick up my passport, take it to the medical center for my TB test, get the results and bring them back to the visa center along with my passport. Of course Fox and I were in the middle of our Ghana travels at this point, so this would have to wait until we returned to Accra for his departure flight.
Problem #5: The TB test results were not ready until 4pm on a Friday
I had arrived in Accra on a Friday, thinking I could wrap the whole thing up in one day. I went to the visa office early that morning to pick up my passport, and went straight away for the test. Unfortunately, the test results were not available until 4pm. The visa office, on the other hand, closed around 2:00 pm! I had to spend the entire weekend in Accra just so I could return my passport and TB test results to the visa office first thing Monday morning.
… and all of the small things
These were just the large-scale problems. We encountered a litany of small problems that I haven't mentioned. The network at the visa office was down. They couldn't print my receipt and I had to wait for them to fix it, making my already long day even longer. Fox wasn't allowed inside, so he had to sit out in the sun for hours while I worked all of this out. I went to the visa center to pick up my passport when I was supposed to go to the British High Commissioner's office. I forgot to get my passport photos on the way to my TB test, so we had to drive around looking for a place. Once we got my refund, the bank wouldn't let me deposit Cedes into my Dollar account, even after we complained to the manager. So I had to walk around Accra with a shopping bag full of Cedes, looking for a forex bureau to exchange it to Dollars. All of these things combined to make this an incredibly frustrating experience.
But in the end, it all worked out! I now have a shiny new full-page UK visa, allowing me to stay there as the domestic partner of an EEA national.