The People: Never have I visited a place where the people have been so consistently friendly. People will literally stop you on the street just to have a conversation. You can hardly go anywhere here without running into a stranger who wants to chat, usually they're just curious about what I am doing here and if I am enjoying my stay. I've also realized that you can travel this entire country without a map. You simply have to ask someone and they will give you all of the directions you need, oftentimes walking you there themselves.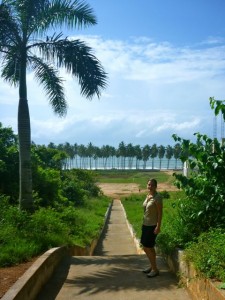 The Coast: I cannot get enough of living on the coast. The palm trees outside of my window, the cool sea breeze, the sounds of waves lulling me to sleep. I am going to miss it all terribly when I leave. There is nothing I enjoy more than spending the day reading a book with my toes dug deep into the sand. I love just sitting and watching the waves come in, it is remarkably soothing.
The Food: Another thing I love about Ghana is how they live off locally produced fruits and vegetables. You can walk into the market and literally watch the seasons change: suddenly you notice that avocados are available, you have a harder time finding plantains one day but there are delicious yellow mangoes as far as the eye can see. My time here has really shown me the value of locally produced seasonal goods, I can't wait to hit up the farmers' markets in London!
The Pace: When I first arrived, fresh off a plane from New York City, the general slowness of things  drove me insane. It seems that almost everything here operates on an "it will happen eventually" basis. While situations here can sometimes push this notion to the extreme, I have at least learned to let go of some of my hurried ways. Sometimes it is nice to be able to slow down and enjoy your life.
The Attitude: Most of the people you meet here are so darn happy! There is such an importance placed on friends and family, and there seems to be an ever-present sense of gratitude where people are genuinely thankful for this day that they are alive. What a great life lesson!