Before coming here, I eagerly consulted the Peace Corps packing list for Ghana. While I was contemplating what to actually take with me, I found its advice extremely helpful. Now that I've been here for a while, I have had time to reflect. There are some things that I didn't really need, some things I'm glad to have and some things I wish I had brought. I am providing this information not only for my friends and family who read this blog and may find it interesting to see what is and is not available here, but for my fellow Googlers who may stumble across this while trying to pack for a long term stay in Ghana.
I DIDN'T NEED TO PACK: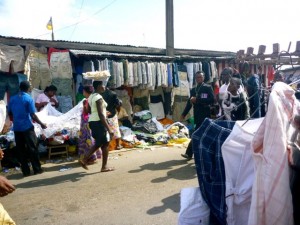 Clothes: I swear I could have come to Ghana with only the clothes on my back, and I would have been fine. There are an unbelievable amount of secondhand clothing stands selling everything from  French Connection dresses to used bras (ew…). If secondhand clothes aren't your thing, you can score a couple yards of fabric and visit a seamstress who will whip something up for just a few dollars.
Insect Repellant: In the local pharmacies they sell insect repellant that is cheap, effective, individually packaged. It also has a slightly more tolerable scent than the hardcore DEET stuff that I packed.
LUSH Conditioner Bars: The solid shampoo bars made by LUSH are great for travel, but the conditioner bars sure are useless!
Body Lotion: You can get a big jar of hand-made shea butter at the market for about 60 cents. Why I hauled so many tubs of Body Shop body butter here with me, I don't know.
Contact Lenses: They're pointless here. With so much dust in the air, I'm always scratching my eyes.
Doxycycline: I didn't take Doxy, but if I did the rumor is that I'd regret packing it. They sell it here ultra cheap. I'm not sure about the availability of other anti-Malaria pills.
I'M GLAD I PACKED:
Antihistamine Cream: For the insane amount of bug bites I get. They don't seem to sell an equivalent here, except for calamine lotion which gets all pink and crusty.
Deodorant: They do the spray and roll on kind here, but I'm more of a solid-stick kind of gal.
Earplugs: I haven't been able to find these anywhere, and between the giant speakers and the roosters they are so incredibly necessary.
Sunblock: They don't sell it here. If you do happen to come across it, it costs mega bucks.
Decent Bed Sheets: I bought a second set here… they're super scratchy.
My Kindle: This sucker has saved me from going totally bonkers with all of the down time I have.
My Laptop: For a hot second, I considered taking our netbook instead. The DVD player on my MacBook has saved me from going insane.
I WISH I HAD PACKED: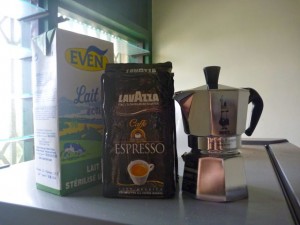 Stovetop Espresso Maker: I went the first three months without, and it was brutal! This is Nescafe country, and that stuff doesn't really do it for me. I priced them in Accra, and a two-cup model goes at Koala Supermarket for about $120 USD!!! For comparison, the two-cup model I picked in Germany cost about $13 USD.
Conditioner: As I mentioned, the LUSH Conditioner Bars I stocked up on were completely useless. The blazing sun and constant ponytail is pretty rough on my monstrously thick hair. Again, I went the first three months without a proper conditioner and my hair turned into some kind of massive straw mess.
Kitchen Knife: The knives available in the market here really suck. I have been cooking almost every day, and this is driving me nuts.
Children's Books and School Supplies: availability of story books (at least in the market here) are limited. If I could do it over again, I'd have brought an entire suitcase full of Afro-centric children's books. I thought I could pick school supplies up here to use in my classroom, but it's impossible to find good markers and good crayons. The ones you do find are in Accra and are severely overpriced.