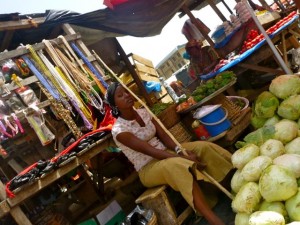 My next stop was a place called Wa, the capital of the Upper West region. Wa is an interesting little town; small but bustling. Home to a colorful market, two mud-and-stick mosques and an enormous mud-and-stick palace, there are some interesting things to see!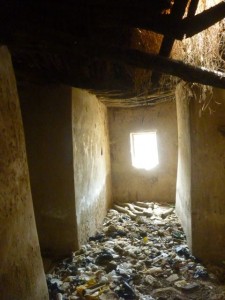 The mud-and-stick mosques were different from the one in Larabanga in that they were no longer in use. This meant that I was actually able to go inside, and even climb to the roof! The mud-and-stick palace is somewhat disputed territory after a disagreement about who was next to become the Paramount Chief.  It used to be surrounded by armed guards at all times. When I went there were just 5 or 6, but they wouldn't let me take pictures. (You can see some pictures and a brief description here.)
One thing I noticed in Wa was the transportation, there are just a few taxis. Normally in Ghana, or at least in the regional capitals, you are surrounded by taxis. These taxis run along already specified routes, picking up 4 people as they go. You pay just a few cents for a ride in these shared taxis. This is the standard way of getting around in Cape Coast, it's very quick and easy to get where you want to go. In Wa, there were no shared taxis. It seemed that almost everyone owned a bike or a motorbike. For those who didn't, there were a few tro-tros making the trip around town. Unfortunately, you have to wait a while for these to pass by.