Mole National Park in the northern end of Ghana is unique in that is easily accessed by public transportation. Most of the safaris in east and southern Africa require you to pay costly fees, and even the other parks in west Africa seem to require you to hire a private driver with a 4X4. Mole National Park has a once-daily bus that takes you straight from the Northern Regional capital of Tamale to the lodge within the park. Walking safaris leave from the lodge twice daily, though even lounging by the hotel pool we saw antelopes, warthogs and elephants. The bus ticket cost about $3USD and the walking safari about $5USD.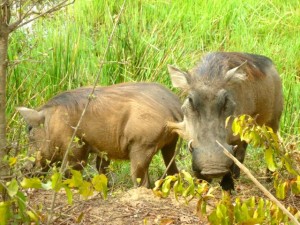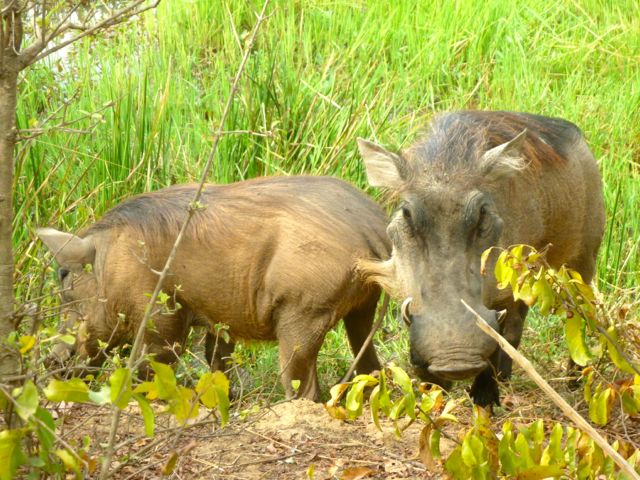 Our walking safari started off with such excitement! As we traipsed into the bush, I could hardly wait to reach the watering hole with it's promise of elephants drinking and bathing. As we walked we saw a number of antelopes that basically looked like fancy deer. As we approached the watering hole, we began seeing large footprints that had been dried into the mud. When we finally made it to the watering hole, I have to say I was severely disappointed in the missing elephants.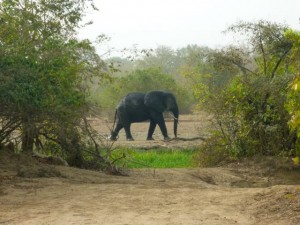 Nonetheless, we continued our trek. Over the two hour walk we saw more antelopes, warthogs, colorful birds and monkeys… but no elephants. When we finally looped back around, we went up to a wooden platform overlooking a smaller watering hole. As I sat there, I saw two elephants slowly coming out of the trees! Then there were two more! As we sat there, four elephants made their way over to the water.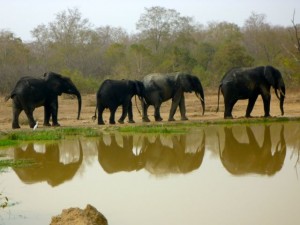 Our guide motioned to us to quietly follow him. As we looped around and passed some trees, I stopped and gasped. I didn't expect to see the elephants so close to us. There they were! We stood for a while, watching them drink and cool themselves. Eventually, our guide informed us that it was time to go back.
A few hour later we were back at the hotel, lounging at the pool on a balcony that overlooks the watering hole. As we sat there, we noticed the elephants return. This time they got right into the water and the young ones started playing! Spraying each other with water, nudging back and forth, it was really something. I couldn't believe I was sitting next to a pool, beer in hand, watching elephants play in front of me.