The next stage in our journey took us to a very special place. In a small and unsuspecting town called Nkoranza, there is a guest house. This guest house lies within the bounds of a place that has been set up to house disabled children. Sometimes children in Ghana who have special needs are sent to live in hospitals or worse they are simply abandoned on the side of the road. Organization Hand in Hand was started by a Dutch doctor, and exists as a safe place for these neglected and abandoned children. They live in the compound and participate in things like games, exercises, music, therapy, parties, dancing, school, creative arts and swimming. There is a school next to the compound that many of the children attend. Young adults that are living in the community go to workshops during the day where they participate in bead and jewelry making, kente cloth weaving and sewing. Their handicrafts are then sold to support the running of the community.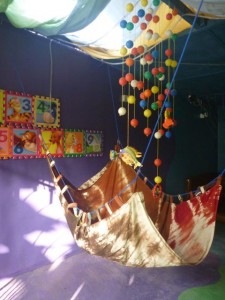 When we arrived at the community, we were immediately greeted and embraced by many of the children. After a soccer game with some of the kids, we were given a tour of the facility. They have many buildings for the residents to use including a movie viewing area and a "disco" area! There is a special place on the compound for children with Autism, they have their own classroom with their own activities and materials. There is also a room where these children can retreat to relax or have some one-on-one time with an instructor. The facility seemed to be really well organized, and the staff members we spoke to seemed to really love their jobs. It made me really happy to see that a place like this exists.
If you'd like some more information, they have a website (http://www.operationhandinhand.nl). I have seen with my own two eyes that this is a great and worthwhile organization. If you are at all interested in helping out they accept donations, sponsorships of individual residents and volunteers from abroad.