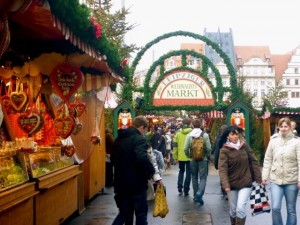 I was very lucky this year to be able to spend Christmas in Germany with my fiance, future-in-laws and my parents! As this was my parents' first German Christmas, Fox and I had to think of all of the things that we wanted to share with them. The first thing I thought of was the German Christmas Market. The Christmas markets are a quintessential holiday experience in Germany. These markets kick off in early December with the first lighting of the "Adventkranz," an advent wreath adorned with four candles, one lit every week before Christmas. They take place in city-centers all across Germany, and have spread to other parts of Europe and even the US. The markets are typified by the small wooden stands with their red and white awnings selling hand-made goods, crafts, snacks, beverages and so on.
When we are in Germany for Christmas, we typically visit the Leipzig Christmas Market. It occurred to me that I've never been here during the non-holiday season, so in my mind Leipzig is a magical Christmas wonderland! Some of my favorite things you can find at a typical German Christmas Market….
1)  Glühwein: Hot spiced red wine, served in a mug. Very important for the full Christmas Market experience, particularly if the weather is very cold. Grab one of these and carry it with you through the market, and it keeps you surprisingly warm (and probably a little drunk.)
2) Thüringer Bratwurst: These are delicious white sausages produced only in the state of Thüringen, stuck in a roll and smothered with mustard. Pairs well with the aforementioned Glühwein. Another Christmas Market essential.
3) Baumkuchen: Translated, this means "tree cake." It is made by rotating a spit and adding layers of batter. When you cut into the cake, there is a ring pattern like the inside of a tree. It's buttery and delicious.
4) Erzgebirge Woodcrafts: Traditional wooden crafts from the town of Erzgebirge. You can find beautiful handmade nutcrackers, traditional incense smoker men, Christmas pyramids and candle arches.