The London Files: I bought an iron…
I have been in London for about a week, and I've been apprehensive about my first blog post. I somehow feel this pressure to write about something incredibly glamorous.
My glamorous new life has consisted mostly of drinking coffee and unpacking boxes. On Tuesday, I decided that my first official act as a UK resident would be to buy an iron. It's funny, but I don't think I had ever owned an iron before moving to Ghana. Since my return, I have been making a conscious effort to look less disheveled. At any rate, I was informed that the Walmart equivalent in this country is something called Argos. Bright and early on Tuesday morning, I hopped onto my first double-decker bus and was on my way.
Argos carries all of your usual Walmart offering,  housewares, electronics and so-on, but it differs in the way that you shop. When you first walk into the store, you are met by a catalogue counter. After browsing the catalogue, you write your selection down on a small piece of paper. That paper is brought to a check-out counter where you pay and are given a number. A few minutes later, your number is called at the collection area and your order is ready to be picked up.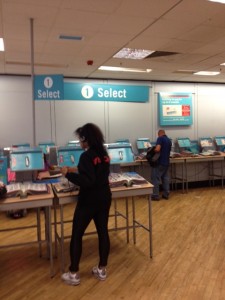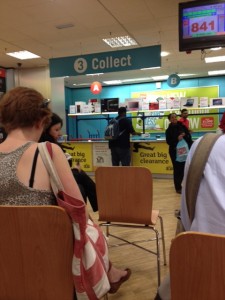 I guess it's not all that exciting, and I've been teased quite a bit for my fascination with Argos. From my perspective, this is one of those "little things." Generally speaking, it seems that international cities are all pretty similar. You'll find a Starbucks and a French Connection without any problems, and with a basic understanding of public transportation you'll probably be able to figure out the metro system. I many ways, London is very similar to New York. That being said, every place has little things that you have to navigate. I'm fascinated by Argos in the same way that I am fascinated with the grocery carts in Germany, the way that you have to free them from their chains  by inserting a coin in the handle bar.
All in all, I feel like my transition to London has been pretty smooth. So far it's just the little things that trip me up. Look to the right when you cross the street; keep to the left when you're walking on the sidewalk. Wait until the two story bus stops before walking down the stairs (I've fallen a few times already) and they're crisps – not chips. If I've learned anything in the past year, it's that I'm not impervious to culture shock and homesickness. That being said, I'm doing pretty well for now.